Ethanol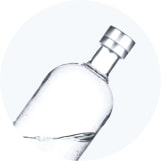 Potable alcohol

Potable alcohol intended for the production of alcoholic beverages, which we supply both to the largest domestic alcohol producers and to liquor companies abroad. It is produced in our distilleries in Kolín, Chrudim and Kojetín.

Technical and fine alcohol

Alcohol intended for non-food use. It is used, for example, in the production of cosmetics, car cosmetics or mixtures for windshield washers. We produce it in Chrudim, Kolín and Kojetín distilleries.

Bioethanol

Anhydrous alcohol (bioethanol) intended for blending into gasoline or for the production of a high-percentage mixture of E85 (15% gasoline and 85% bioethanol). The use of this alcohol in transport brings a certified saving of CO2 emissions of 80% compared to fossil fuel. Thanks to these values, the Tereos TTD company contributes to the fulfillment of the Czech Republic's long-term obligations to reduce greenhouse gas emissions within the EU. In addition, it is energy produced in the Czech Republic from local raw materials, which contributes to reducing dependence on energy imports.

Anhydrous alcohol

Alcohol with high alcohol content and purity, used as a raw material for production in the pharmaceutical or cosmetic industry. We produce it in the Kojetín and Kolín distilleries.